w3c
w3c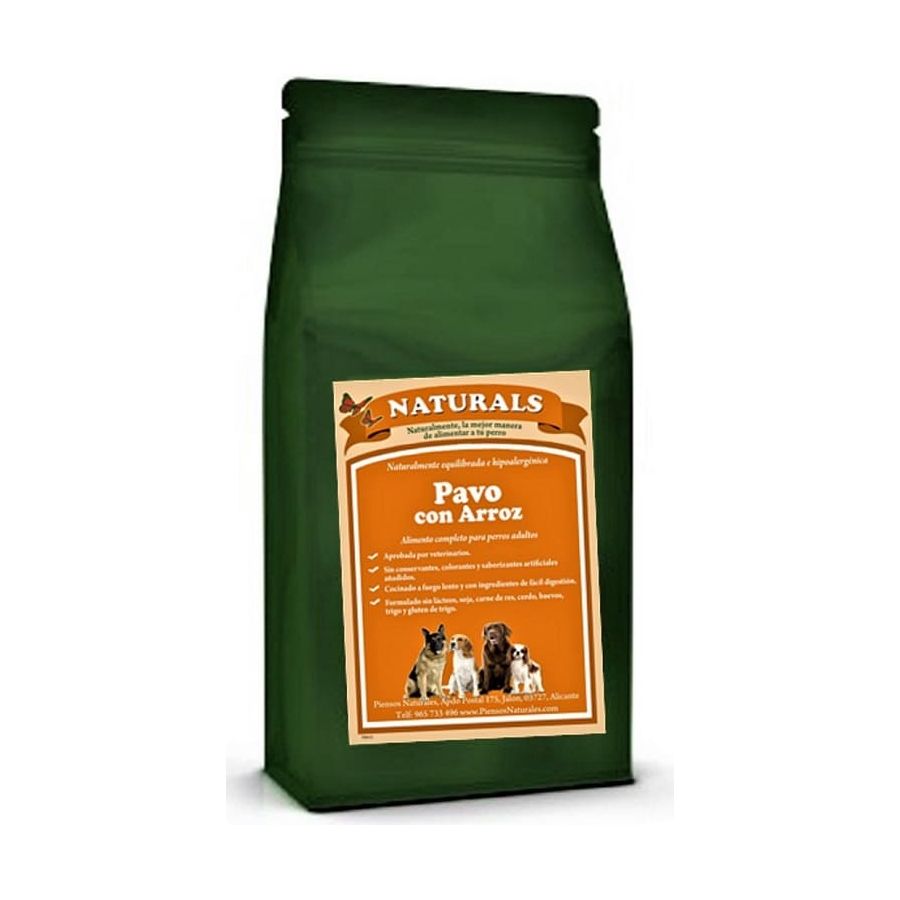 ADULT-Turkey & Rice
Turkey is a lean protein source rich in essential amino acids. It is also a good source of essential nutrients such as riboflavin, potassium and selenium which contribute to overall health and well-being. Rice is an easily digestible carbohydrate source ideal for dogs with sensitive digestion.
Privacy Policy
How secure is information about me?
Delivery policy
We use SEUR/GLS for our deliveries on the Spanish mainland and Portugal
Return Policy
If for any reason you are not satisfied with your order, you have a period of 7 business days from
The Naturals range offers a selection of recipes that benefit from the finest freshly prepared protein sources. The range provides a variety of recipes formulated for pets with sensitive digestion. 30% Total Turkey: a responsibly sourced and highly digestible protein source. 4% Freshly Prepared Turkey: rich in amino acids, vitamins & minerals, turkey is a delicious source of protein. Hypoallergenic: for everyday health and well-being. Formulated without beef, pork, wheat, wheat gluten, dairy, egg and soya. Sensitive Digestion: contains rice and oats which are gentle on a dog's digestive tract. Healthy Gut: chicory extract may help to maintain healthy gut bacteria and aid digestion. No Added Artificial Colours or Preservatives: naturally preserved using rosemary extract.
Composition: Turkey 30% (Including Dried Turkey 22%, Freshly Prepared Turkey 4%, Turkey Fat 2% & Turkey Gravy 2%), White Rice (22%), Brown Rice (22%), Oats (19%), Linseed, Beet Pulp, Alfalfa, Minerals, Seaweed, Omega 3 Supplement, Fructooligosaccharides (FOS, 960 mg/kg), Chicory Extract (0.05%), Yucca Extract (190 mg/kg), Dandelion Analytical Constituents: Crude Protein 23%; Crude Fat 8%; Crude Fibre 3.5%; Crude Ash 6%; Moisture 8%; NFE 51.5%; Metabolisable Energy 346 kcal/100g; Omega 6 Fatty Acids 1.8%; Omega 3 Fatty Acids 0.7%; Calcium 1.3%; Phosphorus 0.8% Nutritional Additives Per Kg: Vitamins: Vitamin A 14,425 IU, Vitamin D3 1,925 IU, Vitamin E 150 mg Trace Elements: Zinc (Zinc Sulphate Monohydrate) 50 mg, Iron (Iron (II) Sulphate Monohydrate) 50 mg, Manganese (Manganous Sulphate Monohydrate) 35 mg, Copper (Copper (II) Sulphate Pentahydrate) 12 mg, Iodine (Calcium Iodate Anhydrous) 1 mg, Selenium (Sodium Selenite) 0.19 mg
Customers who bought this product also bought:
Stay ahead of pets with our trending products
6 other products in the same category:
Stay ahead of pets with our trending products
Quick view