w3c
w3c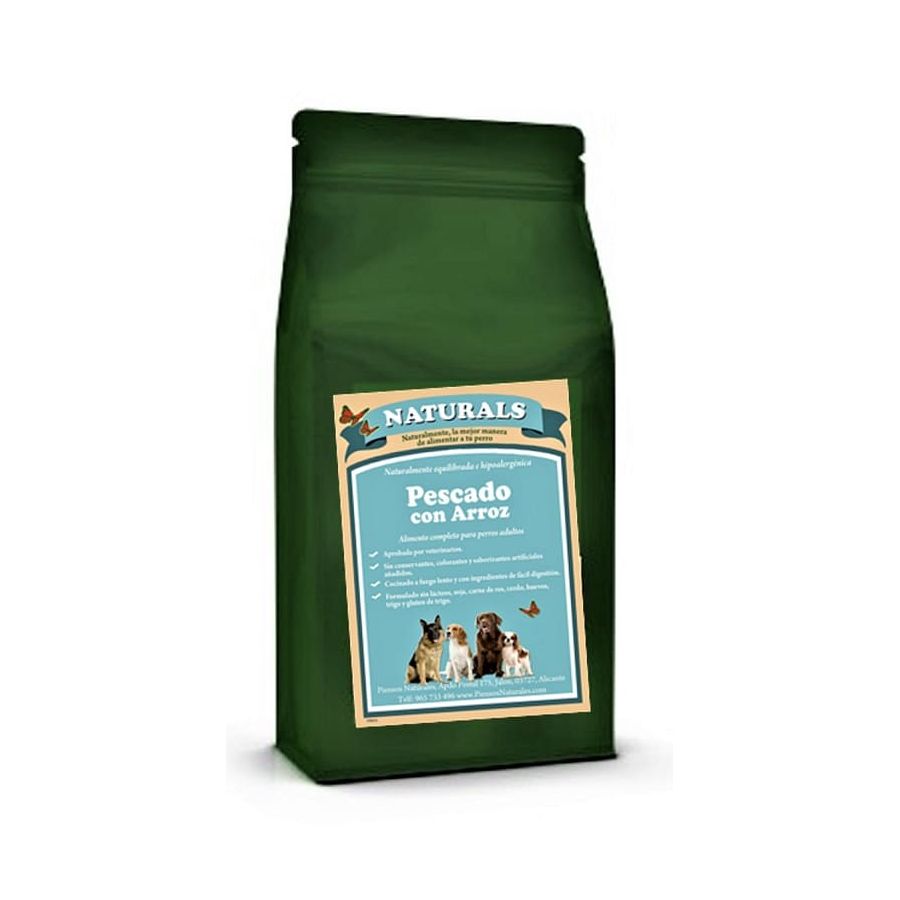 ADULT-Fish & Rice
White Fish are a source of protein and Vitamins B6, B12 and Niacin. They are also a source of Omega 3 fatty acids which may help to support skin and coat health and healthy joints. Rice is an easily digestible carbohydrate source ideal for dogs with sensitive digestion.
Privacy Policy
How secure is information about me?
Delivery policy
We use SEUR/GLS for our deliveries on the Spanish mainland and Portugal
Return Policy
If for any reason you are not satisfied with your order, you have a period of 7 business days from
The Naturals range offers a selection of recipes that benefit from the finest freshly prepared protein sources. The range provides a variety of recipes formulated for pets with sensitive digestion. 30% Total Fish: responsibly sourced and highly digestible protein sources. 11% Freshly Prepared White Fish: rich in amino acids, vitamins & minerals, White Fish are delicious sources of protein. Hypoallergenic: for everyday health and well-being. Formulated without beef, pork, wheat, wheat gluten, dairy, egg and soya. Sensitive Digestion: contains rice and barley which are gentle on a dog's digestive tract. Healthy Gut: chicory extract may help to maintain healthy gut bacteria and aid digestion. No Added Artificial Colours or Preservatives: naturally preserved using rosemary extract.
Composition: Fish 30% (Including Dried White Fish 15%, Freshly Prepared White Fish 11%, Salmon Gravy 2% & Salmon Oil 2%), White Rice (23%), Brown Rice (20%), Barley (15%), Linseed, Peas, Alfalfa, Sunflower Oil, Vegetable Stock, Minerals, Seaweed, Omega 3 Supplement, Fructooligosaccharides (FOS, 960 mg/kg), Chicory Extract (0.04%), Yucca Extract (190 mg/kg), Dandelion Analytical Constituents: Crude Protein 20%; Crude Fat 9%; Crude Fibre 3%; Crude Ash 6%; Moisture 8%; NFE 54%; Metabolisable Energy 353 kcal/100g; Omega 6 Fatty Acids 1%; Omega 3 Fatty Acids 1.4%; Calcium 1.4%; Phosphorus 0.9% Nutritional Additives Per Kg: Vitamins: Vitamin A 14,425 IU, Vitamin D3 1,925 IU, Vitamin E 150 mg Oligo-éléments : Zinc (Zinc Sulphate Monohydrate) 50 mg, Iron (Iron (II) Sulphate Monohydrate) 50 mg, Manganese (Manganous Sulphate Monohydrate) 35 mg, Copper (Copper (II) Sulphate Pentahydrate) 12 mg, Iodine (Calcium Iodate Anhydrous) 1 mg
Customers who bought this product also bought:
Stay ahead of pets with our trending products
6 other products in the same category:
Stay ahead of pets with our trending products
Quick view