w3c
w3c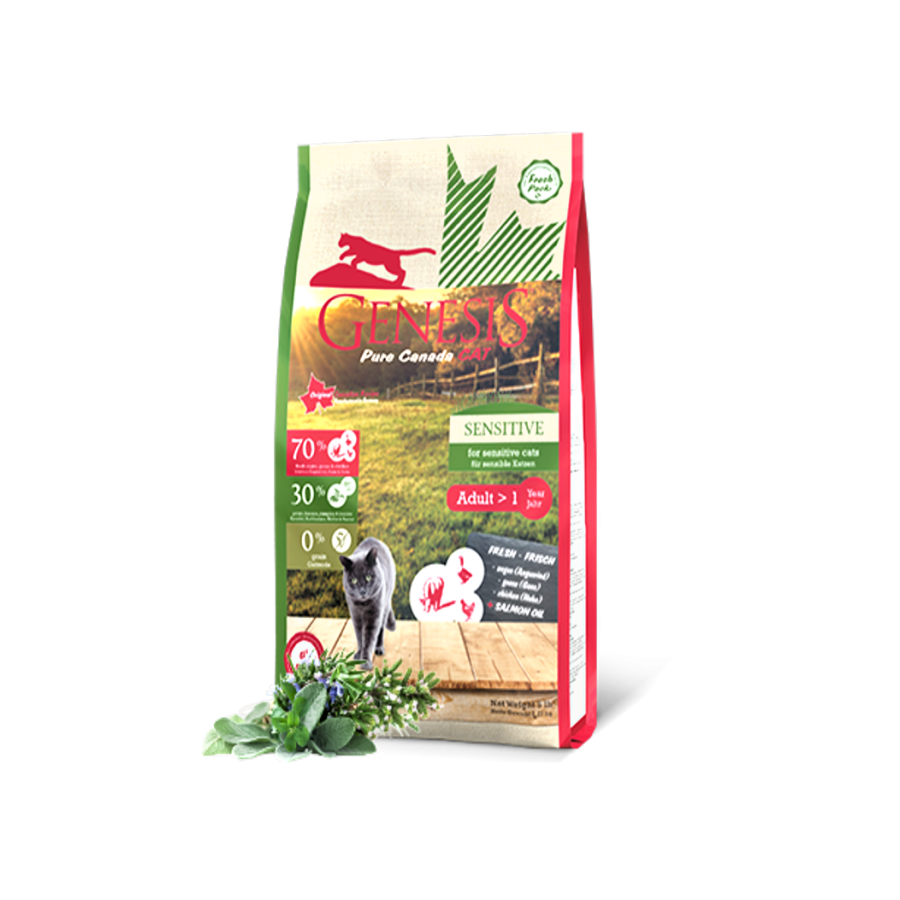 Sensitive CATS-Angus, Goose & Chicken
My green field has selected high-quality and particularly easily digestible animal protein sources such as fresh Angus beef, fresh goose and fresh chicken. Specifically designed for food-sensitive cats with sensitive stomachs and intestines. 
Privacy Policy
How secure is information about me?
Delivery policy
We use SEUR/GLS for our deliveries on the Spanish mainland and Portugal
Return Policy
If for any reason you are not satisfied with your order, you have a period of 7 business days from
The high nutrient density and excellent usability significantly reduce the feeding needs and therefore relieves your cat 's intestinal tract. The combination of low-sugar plantain and easily digestible potato as source of energy has shown great results in the diet of food-sensitive cats. Pumpkin serves as a high-quality fibre carrier that is rich in natural minerals. Cranberries and blueberries secure the vitality and well-being of your food-sensitive cat. You pamper your cat with wholesome and grain-free food. Genesis Pure Canada - My green field is also suitable for food-sensitive cats from the age of 1 due to the deliberate exclusion of grain. The special selection of carbohydrate sources ensures a low glycaemic index. The addition of our GI2 complex* (brewer 's yeast) not only positively affects the intestinal flora of your cat, but also the immune system as a whole.
Composition: Fresh chicken (34.5 %), chicken protein (dried, 17.5 %), plantain (dried, 10 %), potato (dried, 10 %), fresh angus beef (6 %), hydrolysed protein, fresh liver, liver (dried), animal fat, fresh goose (2 %), pumpkin (dried, 1 %), psyllium seeds (psyllium), calcium carbonate, salmon oil (0.5 %), yeast (dried, 0.15 % mannooligosaccharides, 0.15 % beta-glucans), mussel meat meal, cranberry (dried, 0.15 %), blueberry (dried, 0.15 %), blooms of marigold (dried), chicory (dried), yucca (dried). Analytical Constituents: Moisture 10.00 %, Protein 33.00 %, Fat content 17.00 %, Crude fibre 1.50 %, Crude ash 6.60 %, Convertible energy 16.77 MJ/kg, Calcium 1.10 %, Phosphorus 0.95 %, Sodium 0.40 %, Potassium 0.80 %, Magnesium 0.07 % Nutritional Additives Per Kg:Vitamins: Vitamin A 17,000 I. U., Vitamin D3 1,500 I. U., Vitamin E 150 mg, Vitamin B1 18 mg, Vitamin B2 16 mg, Vitamin B6 18 mg, Vitamin B12 30 mcg, Biotin 225 mcg, Pantothenic acid 16 mg, Niacin 65 mg, Folic acid 2 mg, Vitamin K 1 mg, Choline chloride 2,450 mg, Taurine 2,000 mg Trace Elements : Iron 120 mg, Zinc (as zinc oxide) 30 mg, Zinc (as zinc chelate of amino acids hydrate) 40 mg, Copper (as copper (II) sulphate, pentahydrate) 10 mg, Iodine (as calcium iodate, anhydrous) 2 mg, Selenium (as sodium selenite) 0.2 mg, Manganese 12 mg
2.27kg
This product has no reviews!
Customers who bought this product also bought:
Stay ahead of pets with our new selection.